Learn how to dye the prettiest Easter eggs with these easy tips and tricks. But first, you'll make hard boiled eggs. Then have some fun trying different special effects!
How to Dye Easter Eggs: The Basics
To start, cover a table with layers of old newspaper to soak up any spills.
Create a drying rack by sticking pins into a sheet of thick foam board.
For colorfast egg dyes, mix 7-8 drops of food coloring into 1 cup of hot water. Stir in 1/4 cup vinegar. For more intense colors, use small amounts of professional-quality food coloring gels or pastes, available at craft, cake decorating and kitchen supply stores.
If you're doing multi-colored eggs, let them dry thoroughly between coats of dye.
Store finished and dried eggs in empty egg cartons.
Easy Special Effects
Wrap eggs with twine or rubber bands before dyeing to create a striped effect. Remove after drying.
Create patterns with small bits of tape or stickers and remove after dyeing and drying.
Dab rubber cement on eggs and rub it off after dyeing and drying.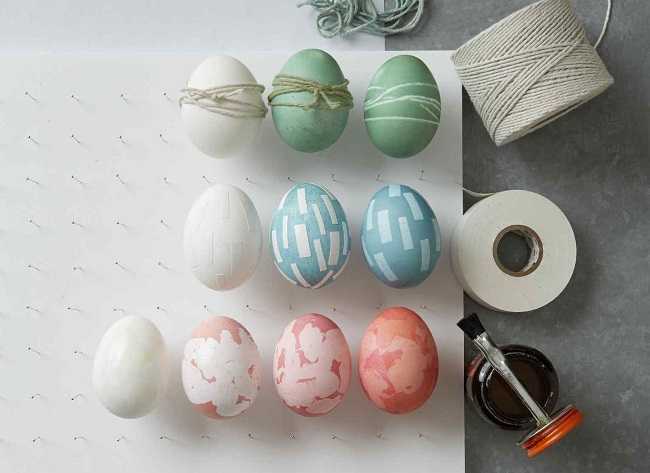 For spattered eggs, dip egg in a base color and let dry. Dip a clean toothbrush in a contrasting liquid color and carefully flick bristles with your fingers to make paint splatter onto egg.
For marbleized eggs, coat eggs with a base color and let dry. Mix canola or other light cooking oil into another color of dye (1 teaspoon oil per cup of dye) and quickly dunk eggs. The oil will repel color in some places and the dye will adhere in others, creating a marbled effect.