Breakfast:
Jamba Juice – We love starting our day with oatmeal and a smoothie from Jamba Juice in Downtown Disney. It's affordable, healthy and delicious!
Churros – These crispy, sugar/cinnamon treats are found in carts throughout the parks, are under $5 a piece, and actually make a great, quick breakfast!
Jazz Kitchen Express – Most of the sit down restaurants in Downtown Disney have a cheaper, quick-service option located next door. You can get a family sized bag of 10 fresh beignets for $10. They come in a paper bag that you can shake to coat in powdered sugar – they're a hit with my kids!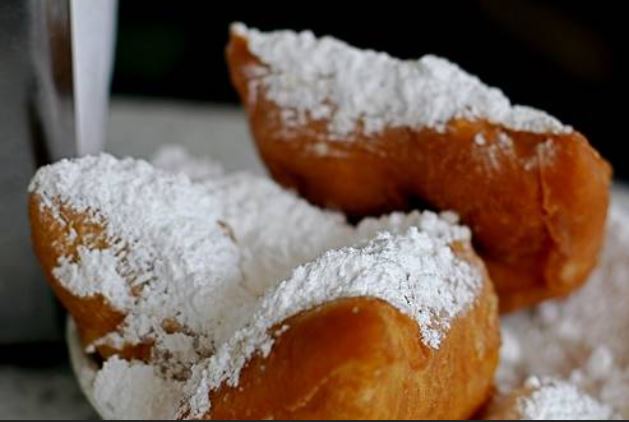 Image Credit: ©Disney
Whitewater Café – This convenient quick service location is located inside Disney's Grand Californian Hotel and allows you to purchase some groceries (at affordable prices) and is a great quick breakfast option while you're standing in line for early entry into Disney California Adventure Park.
Snacks: (We are seriously disappointed if we don't get to eat all of our favorite treats while visiting the Disneyland Resort.)
Ghiradelli's Fountain – We were thrilled when this opened in Disney California Adventure Park. This now allows us to experience our favorite San Francisco treat right after riding our favorite attraction, Radiator Springs Racers. Each person gets a free square of chocolate and then we share a sundae or two!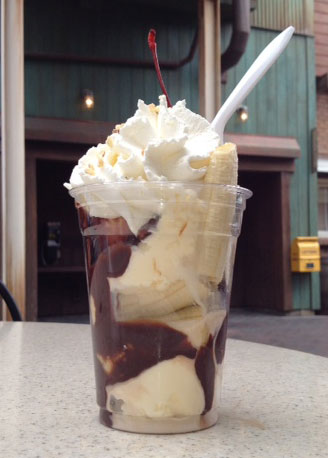 Boudin Bakery – We also love to get a free sample of the famous sourdough bread at The Bakery Tour. Sometimes we'll share a breadbowl or sandwich at the nearby Pacific Wharf Cafe.
Dole Factory – There's nothing as refreshing as a Dole Whip. This tasty treat is found right outside of the Tiki Room at Disneyland Park. You can even bring your Dole Whip into the Tiki Room.
Cozy Cone Motel – We love all the food in Cars Land, especially the Chili "Cone" Queso and the Flavored Popcorn. Each cone offers a different treat, so be sure you're in line at the right cone!
Corn on the Cob – This can be found at numerous food carts. It is delicious and a healthier alternative to the above mentioned treats and is simply delicious.
Turkey Legs – It's hard to imagine a trip to Disneyland without a turkey leg from a food cart. The giant turkey legs are a little messy, but fun to eat and a great source of protein.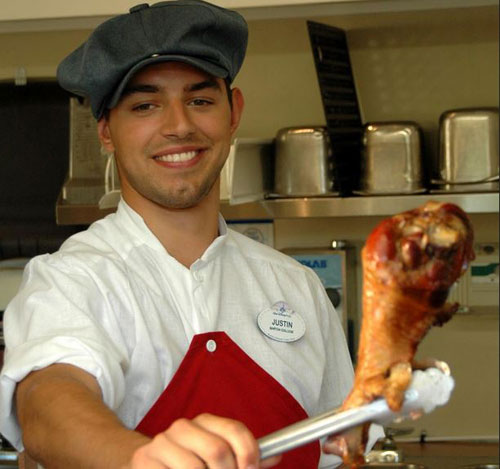 Image Credit: Disney Foods Blog
Lunch/Dinner:
Redd Rocket's Pizza Port – This Tomorrowland location serves large portions of yummy Italian food. Our family will share a pasta dish and each get our own breadstick. It's a great way to share and each feel full.
Earl of Sandwich – This is our new favorite place to eat lunch and dinner. We typically eat there 2-3 times a trip. It's conveniently located outside the Disneyland Hotel in Downtown Disney and is a great lunch to bring back while you're swimming at the pool. Also, it's about the cost of eating at Subway back home and the sandwiches are unique and memorable. You can even order a Turkey Dinner (Holiday Turkey Sandwich) on a sandwich and surprisingly, it's delicious.
Tortilla Jo's Taqueria – This is another Downtown Disney express location that is super tasty and about half of the price of the sit down restaurant, Tortilla Jo's. We love their nachos, tacos and burritos.
Bengal Barbecue – Speaking of a good source of protein, Bengal Barbacue, located nearby the Indiana Jones Adventure in Adventureland, serves tasty meat skewers for about $4. They also have large breadsticks and fresh fruit – a perfect lunch.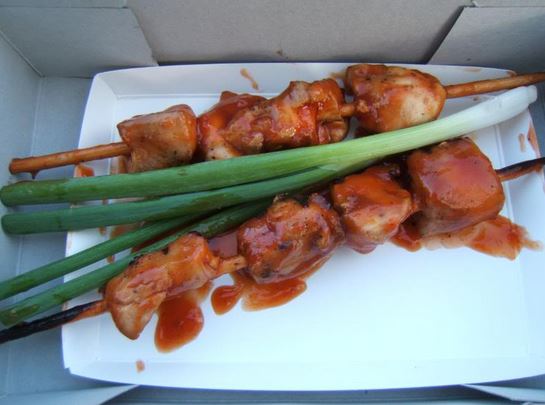 Image Credit: The Mac and Cheese Chronicles
Flo's V8 Cafe – This 1950 style diner is located in the heart of Cars Land. They serve home cooked meals in large portions. Plus, it's just fun to hang out in Cars Land!
Napa Rose – This is one of the best restaurants in Southern California located inside Disney's Grand Californian Hotel. To save money here, my husband and I typically eat in the lounge off the appetizer and dessert menu. It gives you a great taste of the cuisine, but allows you to not overspend. We typically will do that at Carthay Circle Restaurant also. Their lounge downstairs is beautiful, relaxing and has a delicious menu.