Six people have died from the collapse of a newly installed pedestrian bridge on Florida International University's Miami campus, police said.
Interested in Florida Bridge Collapse?
Add Florida Bridge Collapse as an interest to stay up to date on the latest Florida Bridge Collapse news, video, and analysis from ABC News.
Five people were pronounced dead at the scene and another died after being transported to a hospital after the bridge crumbled onto the cars below, Alvaro Zabaleta, a spokesman for the Miami-Dade Police Department, said at an early-morning news conference today.
Authorities have reclassified the mission to a recovery effort from a rescue effort, indicating it's unlikely survivors will be discovered in the wreckage.
"There is the sad possibility that under the concrete there may be additional vehicles," Zabaleta said. "The engineers are working at it in a very tactical way. The structure is fragile and could be dangerous to rescue personnel."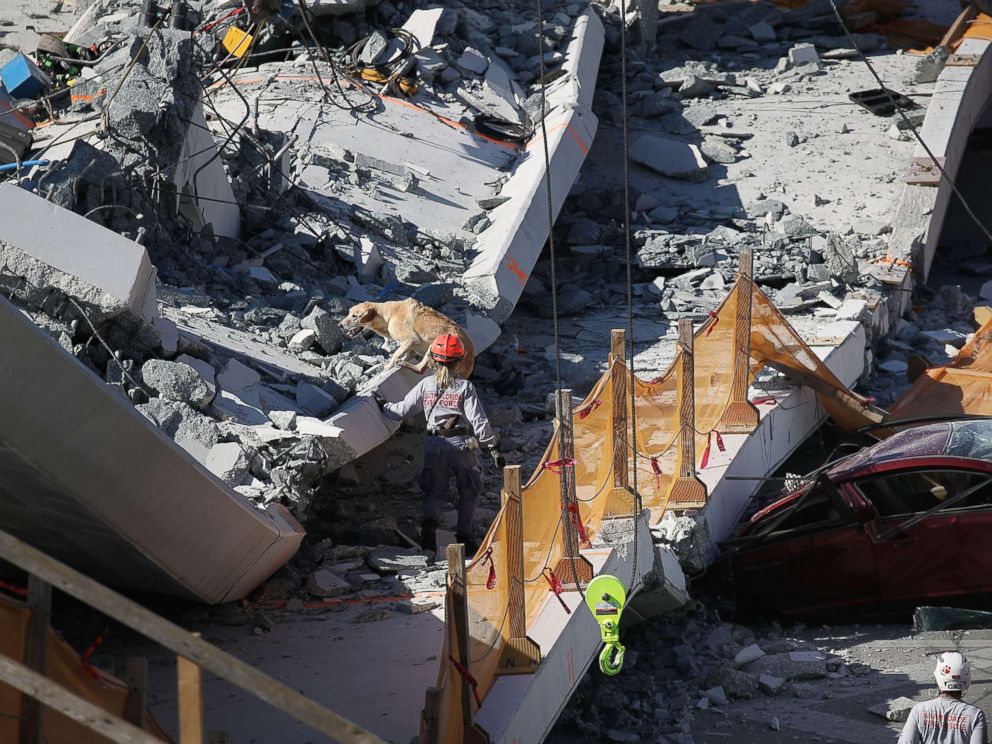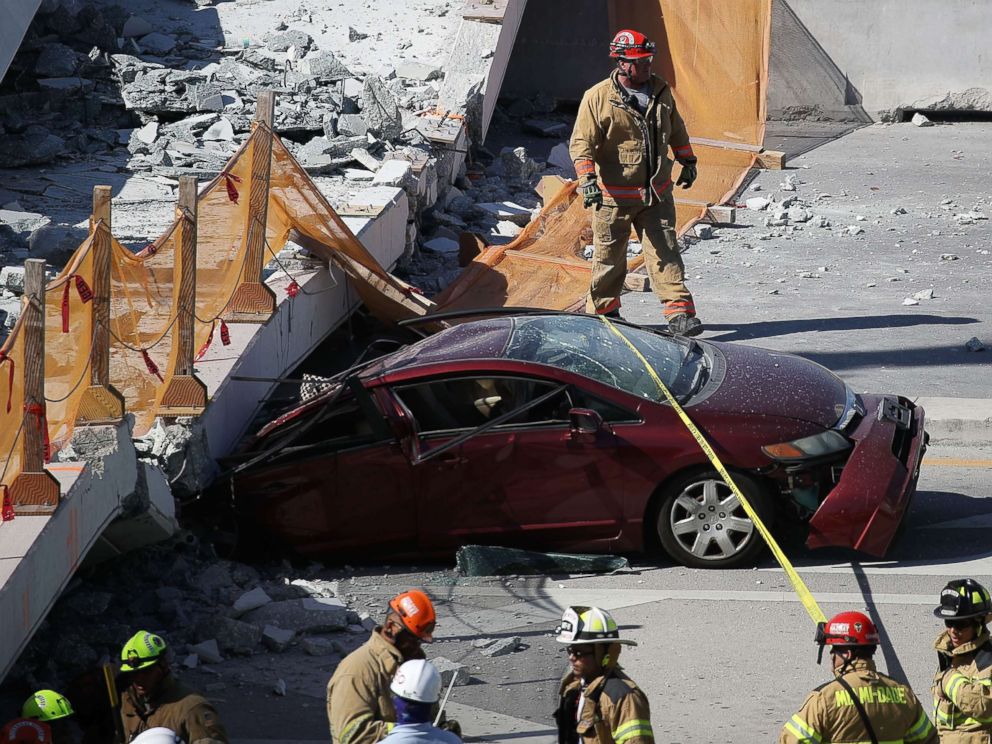 FIU President Mark Rosenberg said today on "Good Morning America" that the "project has been done as every other project at FIU in terms of construction. … We only work with certified contractors that have been approved by all the appropriate authorities."
"We're shocked and we're going to cooperate fully," Rosenberg said. "We've got to get to the bottom of this and we will."
He added: "Our condolences to all the family members and loved ones to those who were injured and killed in this tragic accident."
Joining local authorities on the scene were officials from the National Transportation Safety Board and FBI. Engineering crews have worked nonstop, police spokesman Zabaleta said.
"We've been working throughout the entire night," he said. "This is a very slow process. They're still working away at that concrete."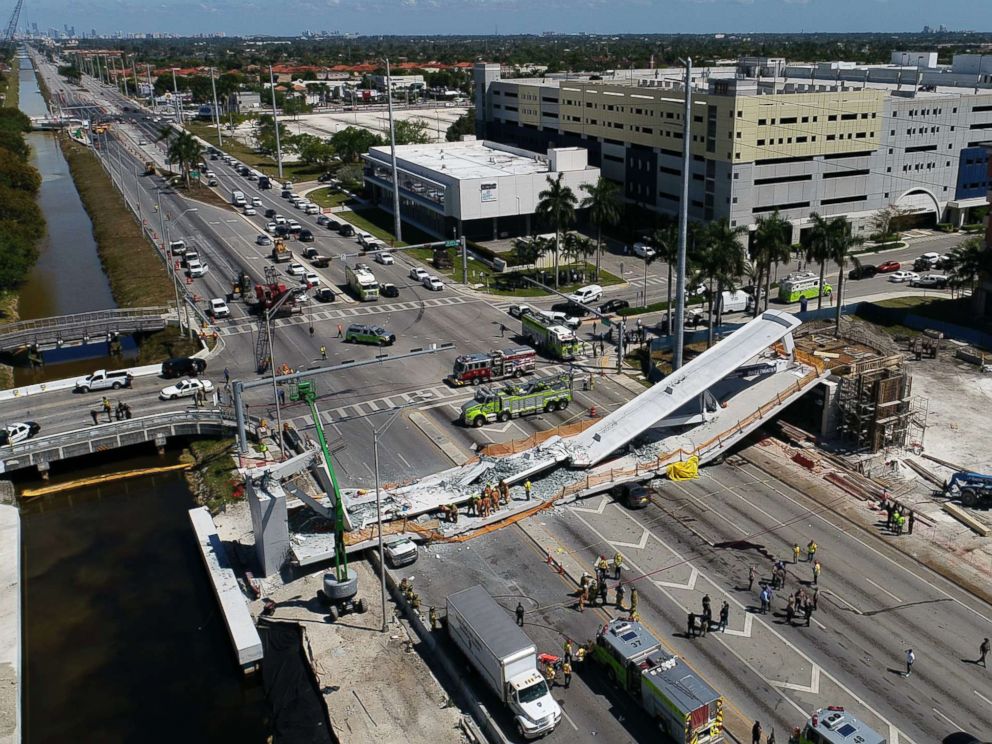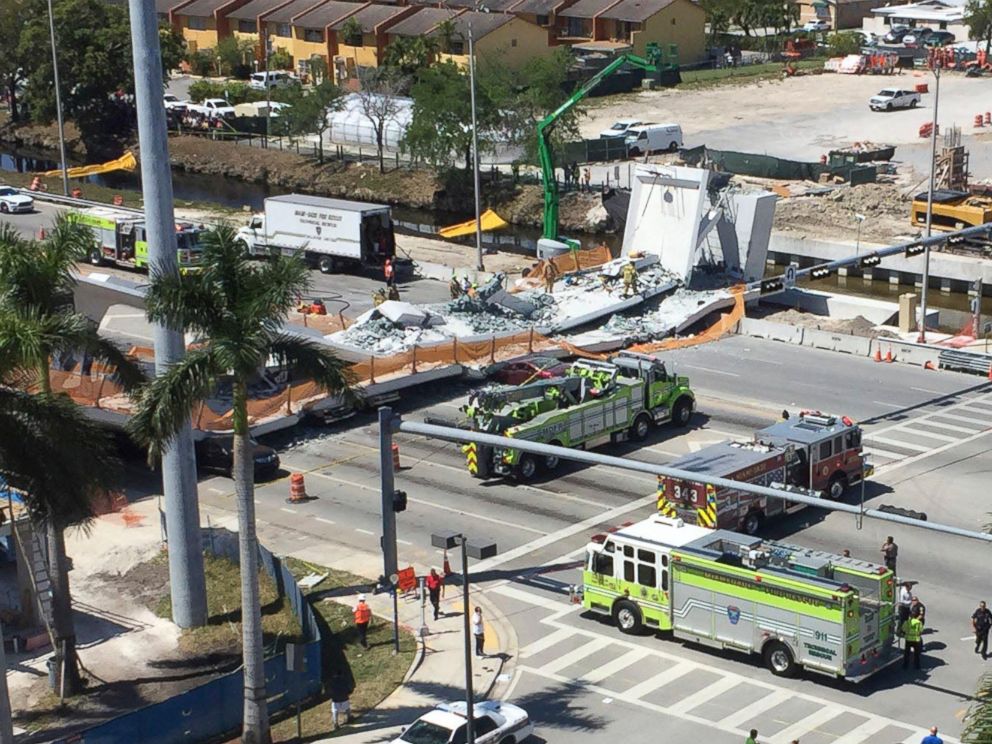 In addition to ensuring the safety of those digging through the rubble, efforts are slowed because there's probably evidence to be collected from what's left, Zabaleta said.
"We don't want to rush it and damage any evidence," he added. "That bridge, whatever's left of it, is very, very unstable."
The newly installed bridge, hailed as an engineering marvel, slammed to the ground around 1:30 p.m. Thursday and immediately trapped at least eight vehicles, authorities said.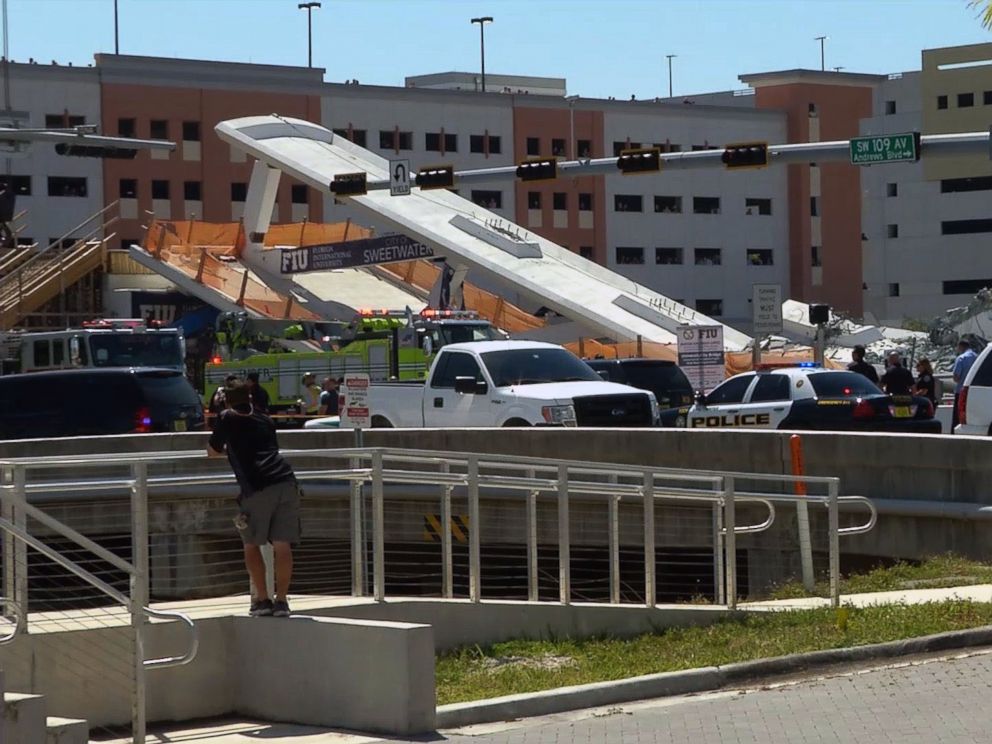 One woman who barely avoided the deadly collapse said she saw the structure crumble "in front of me, and it fell on the cars that were waiting for the light to change."
"I was near the light. I was the first car that moved forward when it changed and I was near the bridge. It was fine, and all of a sudden, I saw it collapse from the left towards the middle," Suzy Bermudez told reporters Thursday.
"I ran to see if we could help but the only thing we could see were the car lights in the front, totally smashed, almost to the ground," she said.
Ten injured in the collapse were transported to Kendall Medical and labeled as level-one trauma patients, Dr. Mark McKenney, the hospital's program director, said Thursday. They ranged in age from 20 to 50.
Eight others were admitted with broken bones, bruises and abrasions. Additional patients may have been admitted to other facilities.
The NTSB is planning to investigate the collapse and plans to deploy a team of 15 specialists that includes engineering, material-science and survival-factor experts.
FIU touted the bridge as one of the first of its kind, tweeting that it swung into place Saturday.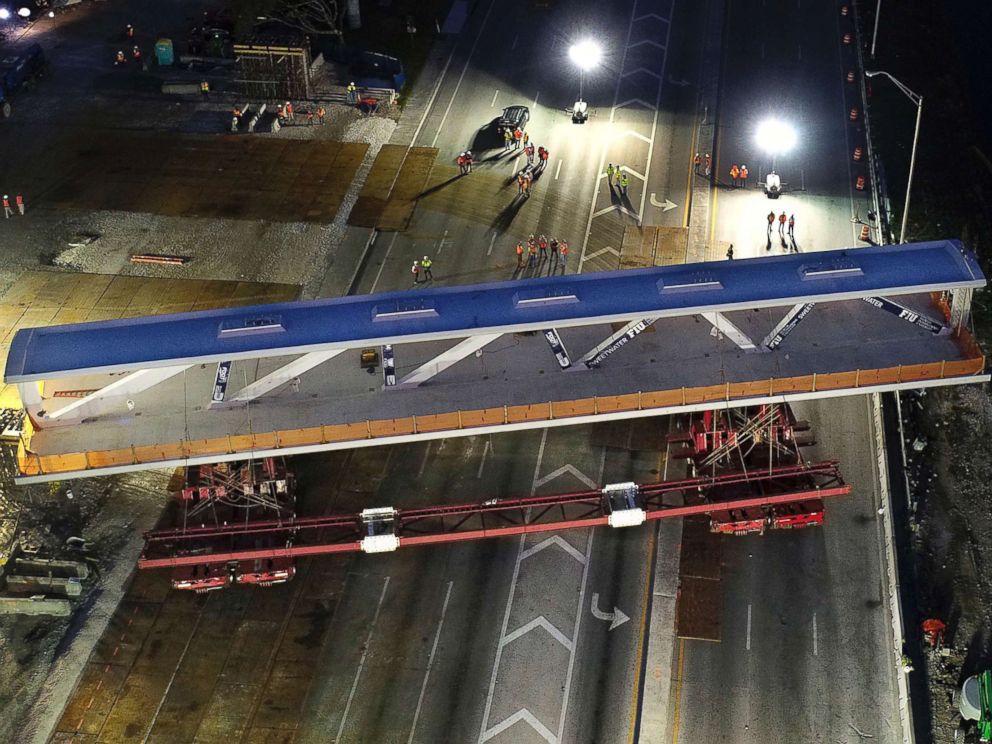 Florida Sen. Marco Rubio, R-Fla., tweeted Thursday that the cables that suspended the bridge "had loosened & the engineering firm ordered that they be tightened. They were being tightened when it collapsed."
Rubio, who described the incident as "troubling and tragic," said the bridge was constructed for safety after a student died last year crossing that intersection.
FIU is one of the 10 largest universities in the country, with nearly 54,000 students enrolled, according to its website.