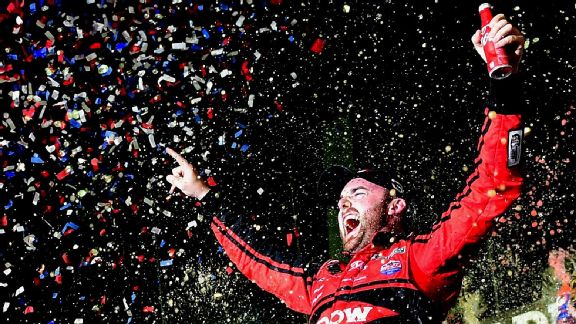 DAYTONA BEACH, Fla. — Feb. 18 is the date everyone at Daytona International Speedway always dreads when it turns up on the calendar. Every other two-digit February day brought anniversaries, stories and smiles. Just this week, during the Daytona 500's 60th anniversary celebration, each day was marked by memories. It was capped by Thursday's 20th anniversary of perhaps the track's greatest moment: when 
Dale Earnhardt
?finally captured his elusive 
Daytona 500
 victory in his 20th attempt.But no one woke up on Sunday morning of the Daytona 500 and felt like commemorating a damn thing. And it's been that way for seventeen years — ever since Earnhardt hit the wall in Turn Four and left this mortal coil. Not his team, RCR, or his best friend and car owner, Richard Childress, or the grandstand packed with fanatics wearing his famous car number, the slanted 3. They started weeping that night, and every year, on Feb. 18, many weep again.
Then, that team, that friend and that slanted three, they all went and saved Feb. 18, at least this time around, and they did it in a very Intimidator-like fashion. Austin Dillon, Childress' grandson, led one lap — the last one — after contact sent then-leader Aric Almirola spinning while the field entered the final set of turns in a Daytona 500 that finished in overtime.
"I stood in this Victory Lane in 1998; I was 7," the now-27-year old Dillon recalled Sunday night, his firesuit soaking in champagne, as he turned and pointed at the massive Harley J. Earl Trophy behind him, engraved with the names of the 38 previous Daytona 500 champions. "My mom [Childress' daughter] had to call me down because I kept climbing on top of that trophy. Now, I am going to go up there and climb all over it myself. It's mine now, right? I don't think anyone will yell at me now, will they?"
Well, maybe.
Dillon's entire racing career has seen him been yelled at by Earnhardt fans. Why? Because they believe that Dillon running that number — Dale's number — has been blasphemous.
It has never seemed to matter that the number was originally driven by Childress as a struggling driver-owner who gave up his seat when his friend Earnhardt came looking for a ride in 1981. They won six championships, that 1998 Daytona 500, and became blue-collar deities. It has never seemed to matter to Earnhardt fans that Dillon has run that number nearly his entire 27-year life, winning races at every level of the stock car-racing ladder.
It has never even seemed to matter that photos of little Austin are scattered throughout the Richard Childress Racing Museum, standing alongside Childress, aka "Pop-Pop" and, yes, Dale Sr. Or that Earnhardt and Childress years ago had talked about a future when the Dillon boys — Austin and little brother Ty — drove for RCR with one of them using that number. Or even that Childress went to Earnhardt's kids, Kelley and Dale Earnhardt Jr., and received their approval.